Bienvenido al Ministerio Hispano de Station Hill.
Somos una comunidad hispana que está aprendiendo, creciendo y amando a Jesucristo como Salvador, en un grupo de discípulos haciendo discípulos. Somos un grupo de creyentes que buscamos servir a nuestro Señor y creemos que nuestra misión es involucrar a la persona entera, con todo el Evangelio de Jesucristo, en cualquier lugar, en cualquier momento y con quien sea.
Welcome to the Hispanic Ministry at Station Hill.
We are a community of Hispanic peoples who are learning, growing, and loving Jesus Christ as Savior, as a group of disciples making disciples. We are a group of believers who seek to serve our Lord and believe that our mission is to engage the whole person, with the entire Gospel of Jesus Christ, anywhere, anytime, and with anybody.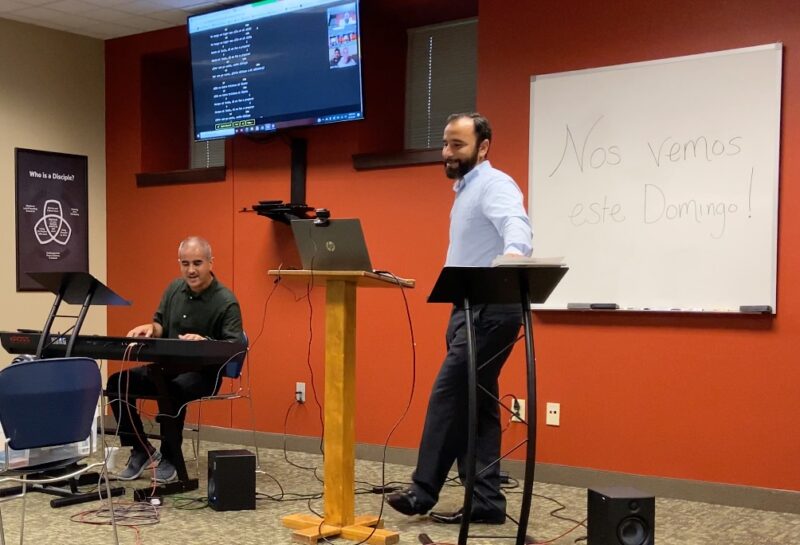 Sermón traducido en vivo
9:00 a.m. a partir del 15 de agosto
Sermon Translated Live | Every Sunday at 9:00 AM beginning August 15
Lifegroup semanal
Todos los domingos a partir del 15 de agosto
10:30 a. m.
Weekly Lifegroup | Every Sunday at 10:30 AM beginning August 15
Clase de ESL
A partir del 12 de septiembre
Domingos | 5: 30-7: 30 p.m.
Miércoles | 9: 30-11: 30 a.m.
ESL Class
Starting September 12th
Sundays | 5:30-7:30 PM
Wednesdays | 9:30-11:30 AM